Juror Information
Welcome to Jury Service
The poll of potential jurors is drawn from Blair County Voter Registration, Driver Licensing Lists and Tax Records. The Court realizes jury service may impose a hardship on some citizens. However, the right to trial by jury is one of the fundamental principles guaranteed by the Constitution. It is the duty of every citizen to serve when summoned.
THE JURY SUMMONS
Read the JURY SUMMONS CAREFULLY. The DATE and TIME for reporting are printed on this summons. The Courthouse is accessible for special accommodations: Call 814-693-3050 at least 72 hours prior to appearance.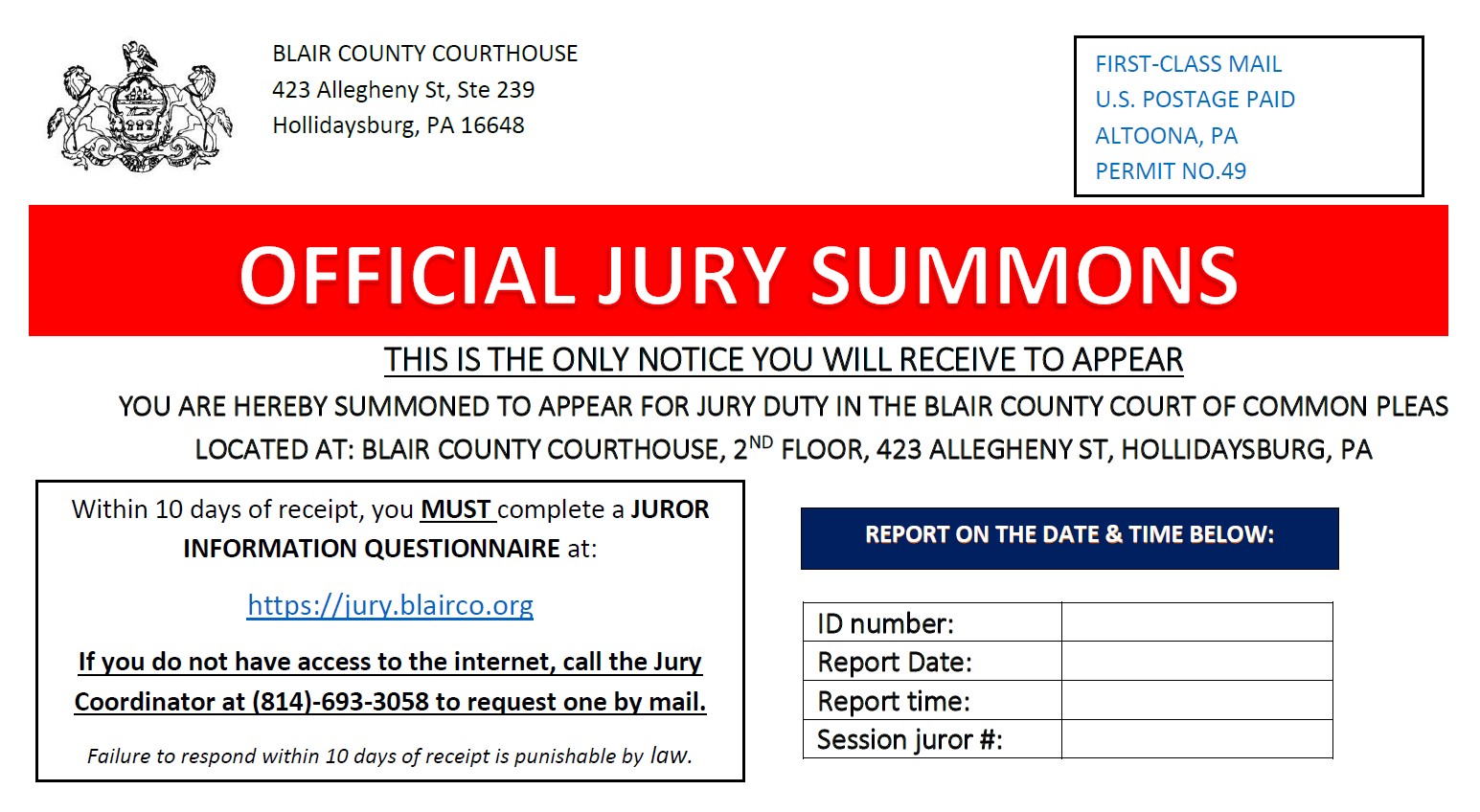 COMPENSATION
Juror compensation is set by Pennsylvania Law at $9 per day for the first three days and $25 per day thereafter, plus $.17 per mile round trip, based upon your city of residence. Each juror is issued a debit card at jury selection check-in. Upon completion of jury service, the calculated amount is loaded on to the debit card within 2 weeks. If you are selected on a jury panel, the additional days will be paid on the same debit card you were given on Jury Selection Day.
COURTHOUSE SECURITY
All jurors must be screened upon entrance. Weapons of any kind are prohibited, including pocket knives and pepper spray. Metallic objects, such as coins, belts and shoes with metal may require additional screening and delay your entry into the Courthouse. Bring only essential items with you, such as keys, wallet, medication etc. You will be asked to remove belts and suspenders. Cell phones are permitted but must be turned off in the courtrooms.
PARKING
Blair County provides a courtesy shuttle for jurors on jury selection day. We ask that you park in the designated area at the Duncansville Antique Depot, behind the Duncansville First Commonwealth Bank, 1401 Second Avenue, Duncansville. The entrance is opposite the Ace Hardware. Please DO NOT park in the bank parking lot, DO NOT park in the first row of the Antique Depot and DO NOT block the rear entrance. A van/bus will shuttle you to and from the Courthouse, beginning 30 minutes before your reporting time. Jurors not utilizing the shuttle and opting to drive to the courthouse on jury selection day should avoid metered spaces or permit only spaces around the courthouse. The county cannot reimburse you for parking tickets.
ATTIRE
Business-like dress is required. We rely on your good judgement to dress appropriately and in a dignified manner. Hats are not permitted in the courtrooms. (Shorts and tank tops are excluded)
MEALS
A meal is provided by the County ONLY when a jury is deliberating. Should jurors be excused for lunch, they may use the Employees' Lunch Room Vending Machines, or go to a Hollidaysburg restaurant of their choice.
LENGTH OF JURY SERVICE
It is contemplated that ALL jury selections will be accomplished in one day. Jury trials are of varying length. A typical Blair County juror serves an average of 2 days on a trial.
YOUR SCHEDULE
Please know your schedule for several months following the date you are scheduled to report.
YOUR REPORT DATE
You MUST report for jury duty on your report date, UNLESS YOU HAVE RECEIVED FORMAL EXCUSAL FROM THE JURY COORDINATOR OR COURT ADMINISTRATOR.
EMERGENCY EXCUSAL/RESCHEDULING
A request for Emergency Excusal/Rescheduling can be requested on the online questionnaire. Written excusals can be emailed to the jury coordinator (jurycoordinator@blairco.org) or faxed (814-693-3289).
VERIFY DATE and TIME
Frequent schedule changes occur. Please CALL 814-693-3000, beginning after 4:30 PM on the Friday before jury selection until Monday at 8:00 AM of your reporting date, for additional instructions. Follow the directions for pressing additional buttons to get the exact juror message. (Press 1 three times)
IMPORTANT
Any person duly summoned as a juror who fails to attend as directed, without sufficient excuse, may be held in contempt of court and may be fined in an amount not exceeding $500 or imprisoned for a term of no more than 10 days or both.
INCLEMENT WEATHER
Courthouse closings rarely occur. Special announcements during inclement weather will be run on local news channels/web pages.
ABOUT JURY SERVICE
Following America's struggle for independence, the founding fathers realized the need to guard the citizens of our new nation against the abuses of power by the government. Accordingly, a system of checks and balances was introduced to prevent any arbitrary acts by any of the branches of government. Thus, trial by jury was guaranteed so that all final decisions on disputes involving liberty or property rested with the citizens rather than with a government official.
Duty of Every Citizen
The service you will be performing as jurors in this Court is the cornerstone of our judicial system. It is a vital duty of every citizen, an absolute essential to our form of democratic society. Without it, our system of justice could be ruled by oppression or engulfed in anarchy. Fulfilling your obligation as a juror insures your fellow citizens a fair decision regarding their property rights, or their life and liberty.
The process of selecting jurors began many months ago when a computer randomly chose your name from the lists used by the Court to comprise the master list of jurors. Some people were exempted by law from this duty and others were excused because of serious illness.
For many of you, serving as a juror is an inconvenience and a sacrifice. However, the success of the jury system depends upon your willingness to serve. Your contribution is important not only to the community but also to you personally, since our form of society is only as strong as its system of justice. Your participation as a juror will leave you with firsthand knowledge of the judicial branch of government. You should take pride in helping to preserve and strengthen our system of justice.
Juror Conduct
If you are selected to serve as a trial juror, your jury service will be for the length of that trial. Jurors usually are not required to remain overnight.
When serving on a jury, you must follow the rules of conduct, which are significant to your continued impartiality. You must not talk with anyone about the case. This includes your family, your friends, and your fellow jurors. Only when you are sent to the jury room to deliberate can you discuss the case. To protect jurors from someone speaking unintentionally to you, you should keep your juror badge visible at all times when you are in or around the courthouse. In addition, you must avoid listening to radio or television reports, reading newspaper articles about the case or doing any independent online research. Remember, you can only consider evidence presented in court, and must not form an opinion until all evidence has been presented.
You must listen attentively. Since your verdict is based on the evidence given in court, you should hear every question and every answer. Remember, you are the sole finders of the facts--the judges of the truthfulness and accuracy of the testimony and evidence.
FURTHER INFORMATION ON JURY SERVICE
Call (814) 693-3058; Fax (814) 693-3289; E-mail: jurycoordinator@blairco.org
Contact
COURT ADMINISTRATOR'S OFFICE
Blair County Courthouse
423 Allegheny Street
Suite 239
Hollidaysburg, PA 16648
(814) 693-3050
(814) 693-3289 (fax)
(814) 693-3058 Jury Coordinator
jurycoordinator@blairco.org